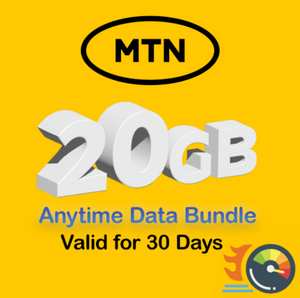 MTN 20GB Data Bundle
Regular price R 470.00 R 210.00 Sale
MTN 20GB Data Bundle
FAQs
Q: How long does it take to receive the data package upon purchasing?
You should receive your product within 12 hours.

Q: What is the duration of the data plan?
The MTN 20GB Data Bundle is valid for 30 days from activation date.

Q: What do you need to allocate the MTN 20GB Data Bundle?
All you need is an existing MTN number to allocate the data. Any of these packages can be loaded onto your existing MTN sim, so you don't have to get a new number for it.

Q: Who is data deal available to?
All MTN customers, it is available to all MTN PayAsYouGo (Also known as Prepaid), MTN Flexi, MTN Classic and My MTNChoice customers.