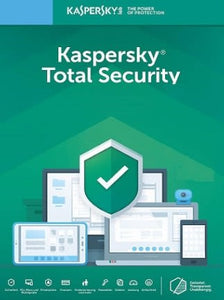 KASPERSKY TOTAL SECURITY 2022 1 YEAR
Regular price R 495.00 Sale
KASPERSKY TOTAL SECURITY 
Kaspersky Total Security triple-layer protection system works 24/7 to secure your devices and data. It blocks common and complex threats like viruses, malware, ransomware, spy apps and all the latest hacker tricks.
Proactive detection
Locates device vulnerabilities & threats
Real-time protection
Blocks cyberthreats before they take hold
Instant neutralization
Isolates & removes immediate dangers
Kaspersky Total Security 2022 is the latest to the date, edition of multi-awarded antivirus software, created and developed by Kaspersky Lab. The company is an expert if it comes to internet security with over 20-years of experience. In 2019, products delivered by Kaspersky Lab took first place in 64 independent tests. Thanks to their security software, you can protect your PC, Mac, or mobile device from various malware, deal with unwanted and potentially harmful emails, prevent data leaks and secure access to your valuable information. Kaspersky Total Security protects yours and your family's privacy. Years of experience and improvements, together with often updates of the virus base, are excellent protection for your devices.
The code provided by Kaspersky Total Security 1 Year, protects one of your devices for the whole year. Stop worrying about harmful software and potential cybercrimes. In addition to that, it is worth to mention that Kaspersky Total Security is user-friendly thanks to its intuitive interface. Games enthusiasts will also appreciate the fact that it doesn't influence the performance of the machine.
Kaspersky Total Security Key Features:
Ultimate protection tool for your devices, including PC, Mac, or Android mobile devices
Security of your private photos, information, passwords, etc.
With Kaspersky Total Security, shopping and banking online are secured, and your money is safe.
Rock-solid protection from webcam spies
You can finally feel safe while browsing the Internet Kaspersky Total Security will take care of your safety
Kaspersky Total Security System requirements:
Below are the minimum and recommended system specifications for Kaspersky Total Security 2022 1 Year Kaspersky GLOBAL. Due to potential programming changes, the minimum system requirements for Kaspersky Total Security 2022 1 Year Kaspersky GLOBAL may change over time.
Windows 7 SP1 or higher, macOS 10.12 or higher, Android 4.4 or higher, iOS 12.0 or higher