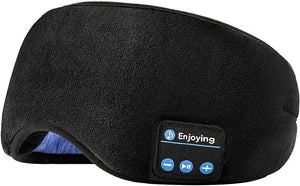 Bluetooth Eye Mask
Regular price R 799.00 R 360.00 Sale
Features: 
Sleeping like a baby: We always want to sleep like a baby, but while sleeping we are usually disturbed by lights or noise around(like snore noise of your lover or other noise). 

Enjoy music the whole night: Playing time up to 8 hours meets the National Sleep Foundation recommendations for appropriate sleep duration for adults.

The Bluetooth control and speakers parts can take out that you can wash the eye mask.
Why choose this eye mask with Bluetooth headphones?
It's not only a simple eye mask like others but also with built-in Bluetooth headphones.

It does not only help you to cover the lights completely to your eyes but also help you fall asleep easier with light music in the case of your lover snoring around.

It's not only a product to make you sleep like babies, but also might be a "peaceful messenger" to avoid lovers' fights caused by someone snoring while sleeping.