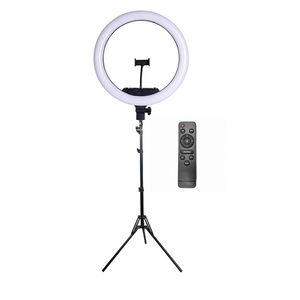 12 Inch LED Ring Light With Remote Control
Regular price R 599.00 R 290.00 Sale
Features:
-This LED Ring Fill Light is a professional lighting tool for photo and video shooting, detailed shooting, additional lighting.
-This High-quality professional ring light is suitable for Selfie Live Streaming, Vlogging, Youtubers, makeup artists.
- Photographers, bloggers, as well as for beauty salon workers and those associated with photo and video art.
-Ring lamp Ring Supplementary Lamp, diameter 33 cm, with adjustable light and brightness, powered by USB, color - black.
-The ring lamp is equipped with diodes in the amount of 168 pieces, the lamp power is 36 V.
-The LED ring is very bright, there is an adjustment of the temperature of light, warm and cold, and there is also an adjustment of the lamp power.
- Folding tripod:200 cm.
- Annular lamp: diameter on the outer side of the ring - 34.5 cm, inner ring - 23 cm
- Nice smooth round light
- The lamp power is 36 W
- Plastic lamp housing, high-quality and reliable lamp
- The number of LEDs - 168 pcs.
- Has 3 lighting modes: warm, cold (white) and mixed;
- Power of a light stream is regulated by means of the panel (in a set)
- Lamp rotation - 360 degrees
- Color temperature: 650K - 3200K
- Lamp 33 cm
- Flexible phone holder (with removable mount);
- The remote control for adjusting the degree of illumination of the lamp and it's on / off. Powered by two AA batteries (included);
- wire for connecting to USB.
- 1 X 12 Inch LED Ring Light With Remote Control Tripod And Phone Holder
- 1 X Phone holder
-1 x remote control
- 1 x tripod