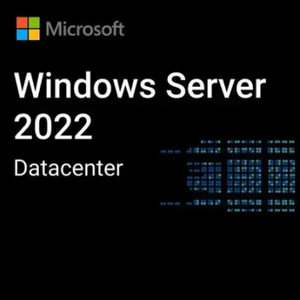 Windows Server 2022 Datacenter
Regular price R 19,999.00 R 8,999.00 Sale
Windows Server 2022 Datacenter
Windows Server 2022 Datacenter - get unlimited virtualization rights
The Windows Server 2022 Datacenter server operating system is primarily aimed at companies with high demands on IT workloads that also work with a large number of virtual systems. With the Windows Server 2022 Datacenter Key, an unlimited number of virtual Windows Server machines can be used. The administration of rights and resources as well as the distribution of software packages takes only a little time thanks to the user-friendly interface and intuitive operation. Compared to the Standard Edition, Microsoft Windows Server 2022 Datacenter offers numerous additional features that significantly increase the productivity of a company. In addition to software-defined networks (SDN), the data center edition includes Storage Spaces Direct (S2D) and automatic activation of virtual computers (AVMA). When you buy Windows Server 2022 Datacenter, you get a highly efficient server operating system that opens up almost unlimited possibilities in numerous areas. There is no limit to the number of RRAS connections or the Windows Server containers. Virtual OSE / Hyper-V isolated containers are also available in unlimited form. An unlimited number of users can use the Windows Server 2022 Datacenter features after they have been provided with an access license (Client Access License, or CAL for short).
All innovations at a glance with Windows Datacenter 2022
When you buy Windows Server 2022 Datacenter, you benefit from security improvements, the nested virtualization of AMD processors, Azure hybrid functions, the introduction of Microsoft Edge as a browser and storage optimizations for Storage Spaces Direct (Azure Stack HCI). However, there are other Windows Server 2022 innovations and improvements that characterize the server operating system. On the security side, it has Secured Core boot protection and the standard use of TLS 1.3 protocol. Windows Server 2022 impresses with improved hybrid cloud functions, which are reflected, among other things, in the Azure Arc management solution. Azure Arc enables faster app development, easier management, and consistent Azure services. With the Windows Server 2022 Datacenter product key, Azure Arc allows the local management of Windows Server in multi-cloud environments via a single, simple control panel. You can easily control and implement Azure management functions such as Azure Policy, Azure Defender, and Azure Monitor. Windows Server 2022 has an improved Windows Admin Center with strong virtual machine management functions and features.
Use efficient server functions
Windows Server 2022 Datacenter is an extremely versatile, multi-purpose operating system that provides highly efficient Windows Server roles. Examples include Active Directory Domain Services (AD DS), AD Rights Management Services, Active Directory Certificate Services, Active Directory Federation Services, DNS servers and DHCP servers. Of course, print and document services, remote desktop services, Hyper-V and Windows deployment services are also available. Virtual machines can be conveniently managed with the Hyper-V Manager. When you buy Windows Server 2022 Datacenter, the management tool includes a new action bar, live storage migration, affinity and anti-affinity rules, VM cloning, and the ability to move workloads between servers.
New SMB functions
Windows Server 2022 Datacenter brings many improvements to SMB, a network file sharing protocol. SMB now supports AES-256 encryption. There are significant performance improvements for both SMB encryption and signing with SMB Direct. Windows Server 2022 Datacenter also brings new functions that are conducive to security in cryptocurrency mining. The cryptocurrency industry is facing a formidable threat from ransomware attacks. The secured core technology supports virtualization-based security (VBS) and hypervisor-based code integrity (HVCI), which protect systems from the EternalBlue exploit. This exploit is often used by hackers to make unwanted or even malicious settings in mining processes. VBS isolates critical parts of the operating system, such as the kernel, from the rest of the system. When you buy Windows Server 2022 Datacenter, you benefit from a versatile server operating system.
What are the system requirements Windows Server 2022 Datacenter?
These are the minimum system requirements for installing the Server 2022 on a PC. If your device does not meet these requirements, you may not be able to install it.
Processor - 1.4 GHz 64-bit processor; Compatible with x64 instruction set; Server Supports NX and DEP; Supports CMPXCHG16b, LAHF/SAHF and PrefetchW; Supports Second Level Address Translation (EPT or NPT);
RAM - 512 MB (2 GB for Server with Desktop Experience installation option); ECC (Error Correcting Code) type or similar technology, for physical host deployments;
Server Storage controller and disk space requirements - 32 GB
Server Network adapter requirements - An ethernet adapter capable of at least 1 gigabit per second throughput; Compliant with the PCI Express architecture specification;
Other Server requirements - UEFI 2.3.1c-based system and firmware that supports secure boot; Trusted Platform Module; Graphics device and monitor capable of Super VGA (1024 x 768) or higher-resolution; Keyboard and Microsoft mouse (or other compatible pointing device); Internet access;