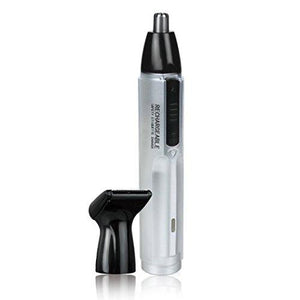 ROZIA 2 In1 Rechargeable Electronic Hair Trimmer
Regular price R 359.00 R 150.00 Sale
ROZIA Men's 2 In1 Rechargeable Electronic Hair Trimmer 

Multipurpose Design The ROZIA facial hair trimmer works on a variety of body parts, including ears, nostrils, mustaches, beards and more!
Quick Recharge Boasting a fast recharging battery, each full charge gives you 45 minutes of continuous shaving for travel-friendly portability.
Powerful Motor Gentle on skin but tough on facial hair, the angled head and high-seed alloy motor help you quickly and easily shave, trim and cut.
Easy to Clean Each personal shaver comes with an adjustable head that can be removed to easily clean out hair or safely wash in your bathroom sink.
 Travel Ready The ROZIA rechargeable trimmer is made for home, office, or on-the-go use. Keep one in your bathroom, briefcase, or office desk!
Product Details
Multipurpose Body Hair Trimmer
Lightweight, Portable Design
Adjustable, Easy to Clean Head
Rechargeable Battery
Wet and Dry Operation
Run Time: 45 Minutes Continuous
Satisfaction Guaranteed