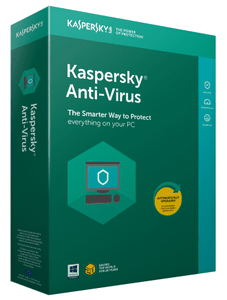 KASPERSKY ANTIVIRUS 2022 (1 DEVICE 1 YEAR)
Regular price R 360.00 Sale
Kaspersky Antivirus 2022

(2022 1 Device 1 Year)
 Kaspersky Antivirus 2022 Features:
- Blocks viruses, ransomware & more
- Lets PCs perform as they're meant to
- Simplifies security management
 Kaspersky Antivirus 2022 Award-winning:
Kaspersky's innovative security helps protect your PC from viruses, ransomware, spyware, phishing, dangerous websites and more.
 Kaspersky Antivirus 2022 Secure not slow:
You want your PC to perform as its designed to and so do we. Thats why Kaspersky security works behind the scenes, without any fuss.
 Kaspersky Antivirus 2022 Easy to use:
PC security shouldn't get in your way, so Kaspersky has developed essential protection thats simple to set up and easy to run.
 Kaspersky Antivirus 2022 For all devices:
Internet connection required for product activation & updates and for access to some features
Windows-based desktops and laptops.
 Kaspersky Antivirus 2022 Specifications:
- 1,500 MB (1.5GB) free space on the hard drive
- Microsoft Windows 10t Home / Pro / Enterprise
- Microsoft Windows 8 & 8.1 / Pro / Enterprise / 8.1 update
- Processor: 1 GHz or higher
- Memory (RAM): 1 GB (32-bit) or 2 GB (64-bit)
Windows-based tablets (system with an Intel processor):
- Microsoft Windows 101 Home / Pro / Enterprise
- Microsoft Windows 8 & 8.1 / Pro (64-bit)
- Minimum screen resolution: 1024x600